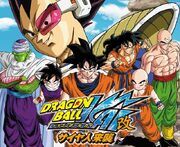 Dragon Ball Kai
(ドラゴンボール改 「カイ」;
Doragon Boru Kai
; Lit. Dragon Ball Revised) is an anime series that is an HD Remaster and Recut of
Dragon Ball Z
done for its 20th Anniversary. It premiered on Fuji TV on April 5th 2009 at 9:00am just before One Piece, and the two shows are being marketed together as 'Dream 9', which refers to the hour in which they both air. Two issues of
Shonen JUMP
have included some primary information about the series.
[1]
FUNimation Entertainment will be dubbing Dragon Ball Kai into English for a North American release, under the release title of Dragon Ball Z Kai (more information can be viewed below). They have also announced the first season of the dub will be appearing on Nicktoons starting May 24th, which is quite a change, as the Dragon Ball series has always called Cartoon Network home in the United States.
Dragon Ball Z Kai
Navarre revealed during its Q3 2010 earnings conference call, on the morning of February 2nd, that its North American anime distributor FUNimation has licensed the Dragon Ball Kai fighting anime series for release in the "latter part of the upcoming fiscal year." However, it is re-titled Dragon Ball Z Kai (ドラゴンボールZ改 「カイ」; Doragon Boru Zetto Kai). FUNimation has confirmed the license with ANN, and it hopes to provide more details soon. Dragon Ball Z Kai Season one, Part one will be released on May 18th, 2010. The cast for Dragon Ball Z Kai will be mostly the same as Z except with a few re-casts. Nicktoons has announced that it will air Dragon Ball Z Kai starting May 24, 2010. A promo for the show has already started showing on the channel.[4] On April 6th, FUNimation revealed more news regarding the dub. The series will be edited on Nicktoons to fit the expected audience, and will occasionally contain different verbiage than the home release, which will be entirely unedited. Most character attacks will regain their correct and untranslated-proper-noun announcements in the unedited dub (Makankōsappō, Kienzan, etc). Some other names that have always been engraved in the English dub will remain the same (namely the pronunciation of "Saiyan", Tenshinhan's adapted name "Tien", etc.). Dialogue is being treated with much more respect than ever before for an English dub of a Dragon Ball product. Lastly, episode titles are also faithful translations of their original Japanese versions. [5]